Parent Effectiveness Training (PET) and Teacher Effectiveness Training (TET ) are accredited training programmes by the Ministry of Education in Bulgaria, registered in the public national information register (www.iropk.mon.bg) of the approved training programmes for pedagogical specialists in the country with the registration N: РД09-994, 07.06.2018.
Read more...
Workshops
You can contact directly the instructor or the representative about schedule, registration and enrollment in the upcoming courses. Our team is a qualified group of educators who are specialized in child development, organizational development, psychology and education and we offer courses based on the Gordon model. All the instructors are certified by Gordon Training International.
Who we are?
We are the licensed PET, TET, YET representative for Gordon Training International in Bulgaria, and our programs are based on the Gordon model.
Gordon Training International (GTI) - headquartered in Solana Beach, California, is a world-renowned human relations training organization. GTI was founded in 1962 by Dr. Thomas Gordon, a three-time Nobel Peace Prize nominee,widely recognized as a pioneer in teaching communication skills and conflict resolution methods to parents, teachers, youth, organization managers and employees , best-known for his Parent Effectiveness Training (PET), Teacher Effectiveness Training (TET), Leader Effectiveness Training (LET) and Youth Effectiveness Training (YET) programmes.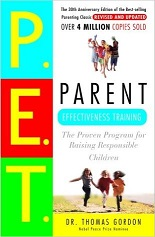 Author: Dr. Thomas Gordon
Dimensions: 13/20 cm
Pages: 356
Author: Dr. Thomas Gordon and Noel Burch
Dimensions: 13/20 cm
Pages: 408