About Teacher Effectiveness Training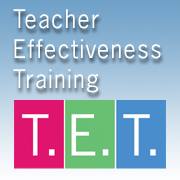 The Teacher Effectiveness Training (T.E.T.) program was introduced in 1965 in response to parents who wanted their children to be treated the same way at school as they were at home.T.E.T.has been taught as an accredited course to hundreds of thousands of teachers in the U.S. and in a number of foreign countries. The T.E.T. book was revised in 2003 and the T.E.T. workshop materials have been revised and updated a number of times.
Teacher Effectiveness Training (T.E.T.) offers teachers the essential communication and conflict resolution skills they need to have high quality relationships with their students so there will be less conflicts and more teaching-learning time. This model has worked for hundreds of thousands of teachers around the world.
What You Will Learn
How you can talk so that students will listen
How to set classroom rules so that far less enforcement is necessary
How to handle discipline problems so that you get relief without damaging the student's self-esteem
How you can avoid the problems of permissiveness and still have creative classrooms that encourage student participation
How to resolve conflicts so that both you and the students are satisfied with the solutions
How You Will Benefit
You'll experience less stress
Students will have more respect and consideration for you
Fewer classroom disruptions and conflicts
Fewer discipline problems
How Students Will Benefit
Increased academic achievement
Increased responsibility and self-control
More desire to cooperate and learn
Increased ability to work in group situations
How the Program Works
T.E.T. is a 30-hour program designed to involve participants very actively in their own learning. We use the following four-step instructional process in each session:
Structure: Instructor presentations, in-class reading, audio-visual aids.
Involvement: Role-plays, workbook exercises, one-on-one skill practice.
Process: Group discussions, one-on-one sharing and reflection to explore new learnings and insights.
Application: Individual and group activities to consolidate learning and make specific action plans. Involves workbook and text reading and out-of-class skill practice assignments.
For more information contact us or click here to view the T.E.T. Workshop calendar.
Learn more about TET Philosophy.